JAH DAN BLAKKAMOORE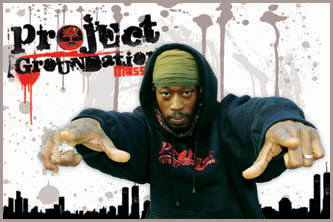 Jah Dan Blakkamoore, front-man for Brooklyn based group Noble Society is a living fucking legend. One of the pioneers of Reggae-Hip-Hop fusion Jah Dan started his career busting huge tunes for Boot Camp Clik, DJ Premier, Branford Marsalis, Dead Prez, etc…
His group Noble Society is a genre-defying live group with worldwide universal energy. Both in the studio and live, these bredren are on some future sound vibrations…definitely pushing boundaries…definitely HOT as FUU#$!!! Their album "Take Charge" which came out on Lustre Kings Productions received "Best Reggae Album of 2008" on I Tunes. NS 4 LIFE!!!
Jah Dan has been a long time PGM collaborator. The first project Jah Dan officially hosted was PGM vol. 22 "PGM Radio" along with Richie Spice.
He has been featured on pretty much every project since then. He was the only non-Virgin Islands artist to be featured on PGM vol. 21 "Nothing To Prove" which was Riddim Magazines "Best Mixtape of 2006!!!" His tune "Out of the Slaughter" was a instant stand-out. It was on the same title to track to Midnite's "Let Live" produced by Down Beat Sound Collective (Tippy of I Grade, M1 of Dead Prez & Sol Messiah). The tune is slated to be released on Jah Dan's massive album "Babylon Nightmare" produced by Moon of Lustre Kings Productions.
Jah Dan also dubbed the title track on PGM's "Down In The Ghetto" the Mixtape/Album. This track will also be featured on Jah Dan/Lustre Kings "Babylon Nightmare."
…Jah Dan Blakkamoore & DJ Child: "Remember My Name"…